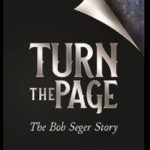 The Children's Village Foundation was given the opportunity to distribute the Bob Seger Biography "Turn the Page" by Dr. Edward Sarkis Balian as a fund raising effort. We thank Mr. Balian for allowing us to sell the book and for donating part of the profits from the book to the Foundation.
Review of "TURN the PAGE, The Bob Seger Story"
Silver Sky Publishing, USA
Silver Sky, Inc.
Kim Maki, Editor of Detroit Rock 'n' Roll Magazine gives the book 5 STARS, writing;
Bob Seger never gave up on his dream. He had the stamina to take his music career all the way to an international audience. Based in Southeast Michigan, Bob has always kept a very low profile when not on tour. Not a lot of personal information released from his camp… So when I received the new (big, 280 pages!) biography on Bob "Turn the Page" by Dr. Edward Sarkis Balian my first thought was, "well this author had his work cut out for him!" Perhaps the toughest biography to write of all our Detroit Rock Heroes, in my opinion.
This author, an original Detroiter, spent a great deal of time researching his subject and it was time well spent. Dr. Ed also had the stamina to delve into the life of a very quiet legend. He didn't go after salaciousness and drug addictions like other rock authors have done in the past. This book is about the man and his music.
The book is also available on the following social media sites:
BobSegerTurnThePage.com
Instagram.com/BobSegerStory
Facebook.com/BobSegerStory
Amazon.com
Reverb.com
Ebay.com
https://bobsegerturnthepage.com/?fbclid=IwAR0RoPORdXb0JKTGf5xdQiwAeknXBm7e3tox1q8rb2sGh4er7-2dyOL_rEY